Gourd Handbags

Our "It's A Gourd" line is really unusual. Each handbag has its own individual character provided by nature. Our handbags are eco friendly and we have worked hard to keep them that way. Each gourd is organically grown and hand picked. This process is time consuming because we look at lots of gourds before choosing the ones that will become a "Snook" handbag. We are looking for gourds that are not only large enough but have exteriors that are beautiful and thick enough. 
Once the bags are in our studio they are cut and the seeds are cleaned out. We use eco friendly dyes and natural oils on the exteriors. 
   
Exterior colors are available in your choice of natural or dark.
Size: Gourds are measured by measuring the diameter of the bag at its widest point. Our bags measure 9" to 12" in diameter.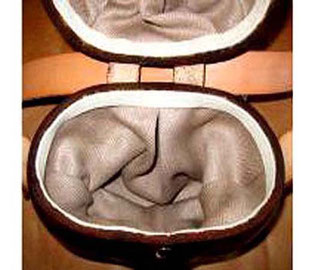 Interiors:
All of our interiors are lined with a Hemp Herringbone fabric. The trim is hemp webbing.

Leather Strap Colors
Straps: Our straps can be ordered in veg tan leather or hemp webbing. Hemp straps are ½" wide and available in natural, dark tea stained or black. Veg tan leather straps are available 1 ½" or ½"" wide. You also have a choice of natural, dark brown or black.

Hemp strap colors are available in beige and black. The sizes are the same as the leather straps.
Full Size shoulder View of our gourd handbags. (insert Photo)